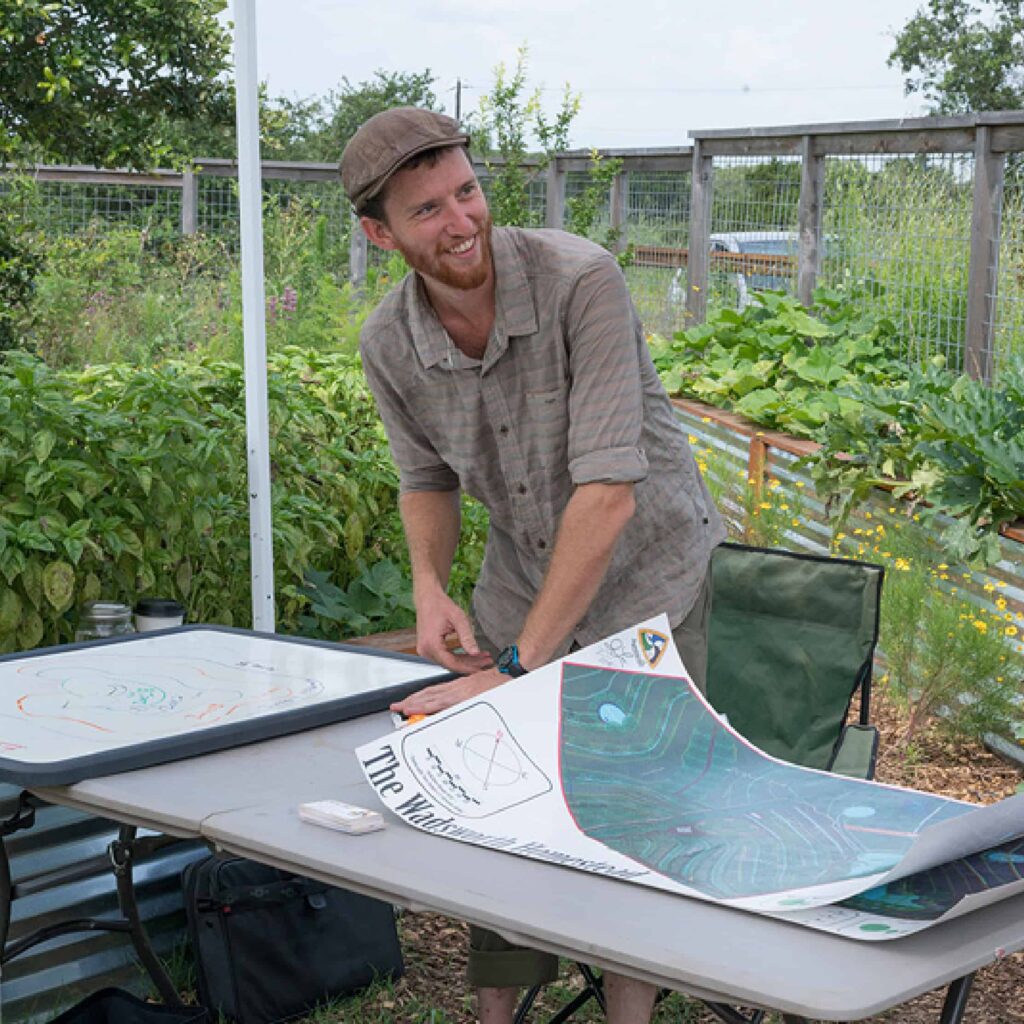 Michael Wolfert took his Permaculture Design Course at the Quiet Valley Ranch in 2007. Those two weeks changed his life and he immediately began seeking mentors who could teach him more.
Michael has worked on farms & ranches. He has experience growing food for his family or commercially throughout central Texas including, Blanco, Spicewood, Austin, Leander & Dale Texas. He has continued to study cutting edge regenerative systems design, installation and management techniques including Darren Doherty's Regrarians Platform and Mark Shepard's Restoration Agriculture methods.
Michael also worked for 2 years with Hill Country Natives in Leander, TX to research & provide well-adapted edible plant species with superior root systems to clients in Central Texas.
Michael ensures that every project Symbiosis is involved with includes our three regenerative metrics of success.
1.) Capture and store more water in the soil and aquifers than we use for irrigation.
2.) Build soil fertility and health while producing yields.
3.) Increase biodiversity.
Michael is the Lead Designer and CEO for Symbiosis. He loves helping clients apply regenerative design to their context in order to help them reach their goals.
Sam Arnold is a native Texan former tech wiz turned nature boy community builder, focused on earthworks & agroforestry in the Central Texas bioregion. Son of a Master Gardener, with family timber farming roots in the piney woods of East Texas, he has been planting trees ever since he could lift a shovel. He's been a Certified Permaculture Designer since 2012, which inspired him to convert his parents' 5-acre property in Cedar Creek into an intentional community called Quilombo Paixao. After a few years of volunteering and co-founding a design partnership, he joined Symbiosis in 2015. Sam is a licensed drone pilot and has created all of the base maps for Symbiosis clients, then he and Michael work together on completing the designs. He often runs logistics for jobs and is a highly skilled equipment operator.
When not designing & installing regenerative systems professionally he's doing it for fun at home & deep in the Chihuahuan Desert of West Texas.
When not doing all that he likes to play & teach Capoeira, make & dance to music, meditate alone & in groups, & enjoys spinning poi & walking on hot coals.
Ariel Von Raven has been installing regenerative systems and landscapes for over 10 years. Working as a property manager for an 88-acre farm and canopy tour he has learned how to set up and maintain extremely complex systems. Truly a jack of all trades, he strives to master them all. An experienced equipment operator, irrigator, plumber, landscaper, farmer, carpenter and much more, he is extremely committed to his work and enjoys every project from start to finish. As the operations manager for Symbiosis, he oversees our other project managers, providing logistical support and guidance while also being willing to do the dirty work. As a sales team member, he helps clients define and reach their goals. As the CFO for Symbiosis, he manages the financials and helps run the business.
Justin Grunow is a permaculture enthusiast who has been actively involved in regenerative design, installation and education for several years throughout central Texas.
He was originally drawn to permaculture because it is a solution-oriented approach to the ecological problems facing our world today, in an ethical and creative way. At the beginning of his journey, he traveled to Lost Valley Education Center in Eugene, Oregon to take the Permaculture Design Course and participate in an intensive internship, giving him a crash course in gardening, natural building and cooperative community. From there, he returned home to Austin to serve as a caretaker at The Whole Life Learning Center, where he had the opportunity to teach children what he had learned and continue to practice his skills. He then progressed to manage a large ranch, work with many types of plants and animals, and learn the ins and outs of the infrastructure that enables truly abundant systems.
He is a project manager for Symbiosis and you can find him bringing our designs to life and helping our clients learn how to be better stewards.
Adam Russell is an ecologist, explorer, and educator. For a decade he was an educator for Remote Medical International where he has worked with human and land health in remote locations around the world since 2006. He has worked to regenerate land with the use of the Holistic Management framework, Regrarians platform, Permaculture, earthworks, biodynamics, pyramids, and Homa farming practices which include biofertilizers and agnihotra. He seeks to build a knowledge base of how we can work to release the potential from under-utilized lands. Adam's current projects include broadscale soil and atmospheric regeneration and the spread of available solutions through his work with Symbiosis.
Here is an interview with Adam produced by Tribalize:
Ian McGuane is an avid outdoorsman and Eagle Scout who has enjoyed backpacking and shaping the Texas hill country for over fifteen years. Taking part in service projects and conservation efforts around the state from a young age has planted within him a passion for hard work and building efficient systems. That passion and experience is only growing in his time with Symbiosis and he is looking forward to continuing to foster that growth with co-workers and clients alike. An Austin area resident since 2008, Ian happily lives with his partner and their adopted dog, Kazoo.
After 7 years of practicing law, Patrick McMillin joined Symbiosis in late 2020 to pursue his interests in permaculture and land design. He has been involved in the permaculture community for over five years, earning his Permaculture Design Certificate from the Austin Permaculture Guild (Fall 2016 – Spring 2017), studying Holistic Management (Summer 2017), training in the Regrarians Platform (Fall 2017 – Winter 2018), and participating in permablitzes across Central Texas with Earth Repair Corps and SATX Permaculture. Patrick believes that we should define personal wealth using Ethan Roland and Gregory Landua's "Eight Forms of Capital" framework which includes "natural" or "living" capital – the health of the soil, plants, animals, and water resources on our land. He is passionate about helping each of our clients build living capital and abundance on their property.
When he's not bringing Symbiosis designs to life on one of our install teams, Patrick enjoys organic gardening, hunting, fishing, art/music festivals, and searching for the best BBQ in Texas.
Ellie Watson is a cave explorer, pig farmer, and ultramarathoner. She experiences nature as a curious explorer, seeking to discover and revel in creation. Ellie provides administrative support to the Symbiosis staff and contributes her GIS expertise to the design process. While not on the jobsite, she and her husband Ariel are building permaculture systems on their off-the grid homestead.
Ryan is first and foremost a Central Texas Gardener. Certified as a TreeFolks urban forest steward and as a Permaculture designer he has access to some very practical gardening experience. Ryan grew up in Travis County outside Austin where he got to experience building barns, chicken coops, installing gardens, beekeeping, building water features and, of course, installing and caring for plants and trees! Ryan was even a worker at the largest organic farm in Texas and I've spent the last six months doing installation work here at Symbiosis. Ryan relishes the chance to work in so many gardens and on so much land in so many places around Central Texas.
Ryan isn't always available by phone, but always wants to hear from you. If you've had something installed by Symbiosis and want help keeping it healthy and maintained feel free to call Ryan at 206 724 2377
Chris Jones has loved asking existential questions from a young age. This persistent inquiry into the nature of reality eventually unfolded into a deep reverence for the beauty of the inherent geometry of nature. A few years before joining symbiosis, Chris left a career in finance to travel the West & Southwest regions of America to immerse himself in learning how to be a responsible land steward. He has experience as a farm hand and consultant trained to solve problems with an integrative approach that synthesizes various regenerative agroecological methodologies focused on building closed-loop systems.
Chris is currently self-designing experiments that question conventional wisdom, building soil and biofertilizers primarily using fermented organic matter, rediscovering indigenous cultural practices, learning to forage and safely consume edible/medicinal plants, and studying to become a certified permaculture educator.